About Us
JigaWatt Cycles was founded with the goal of bringing affordable electric bicycles to those who have given up using bikes for whatever reason.
We started operations in December of 2012.

In May 2014, we moved from the garage into a small storefront in the Courtyard at Jamestown shopping center.
Myles Christensen
Owner - Founder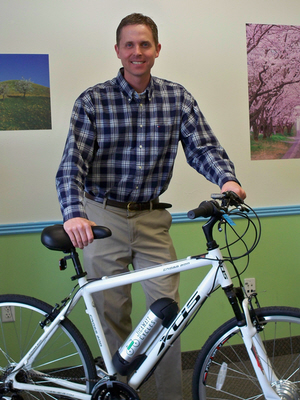 Myles has Bachelor's and Master's degrees in Mechanical Engineering from BYU.  He also has an MBA from the Marriott School of Business.
He currently works full time as a freelance design engineer.  His consulting company is called Idea Zone Product Development.  He used to work from home, but now he works on his client's projects while he's at the bike shop.
For the past two years, he has taught the introductory 3D CAD class in the Mechanical Engineering department at BYU.
Myles loves it when he gets a chance to ride his own bike - a blue recumbent tadpole trike with a green JigaWatt Cycles flag.  
He also enjoys playing with his kids, going on walks with his wife, and inventing new products.